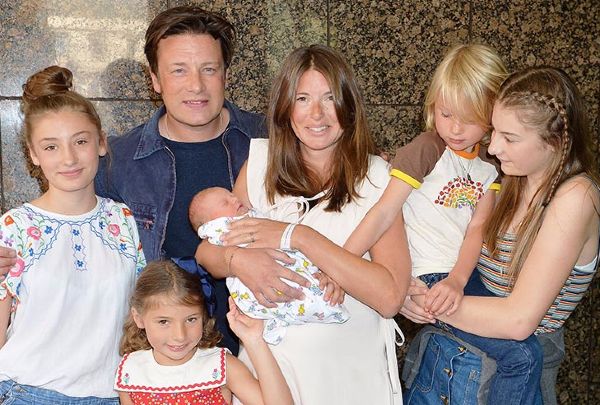 Gorgeous little River Oliver is one lucky little lad!
Wife of celebrity chef, Jools Oliver, took to Instagram on Wednesday to share some fabulous pictures of her son's beautiful new nursery, which she called her "absolute favourite room in the house."
The image posted consists of four smaller images that display little River's nursery from a number of different angles.
In the first quadrant, the little bub's red Moses basket can be seen resting on a rustic wooden floor, next to a delightful yellow armchair covered in pillows.
The second shows a stone fireplace with a vibrant desk and stool next to it, and a turquoise chest of drawers, with a collection of soft toys in front of it.
The third picture seems to have been taken from further back i the room, to include River's cot and a cloud mobile, with the adorable little baby staring up at it in awe.
The last photo shows the nursery door, with his name in bunting pinned on it.
Jools teamed up with Denmark-based interior stylist Styleplay in order to create this gorgeous nursery for her youngest child.
The 42-year-old captioned her Instgram post: "My absolute favourite room in the house. Little River's nursery. Thank you Vivi and Carina @styleplaydk you are so talented, brilliant and lovely, your help was invaluable," she wrote. "Now I just need to get River out of his little cosy Moses @sebrainterior your cute cots are lovely xxx."
The photo was uploaded yesterday, and has already been liked over 10,000 times, with hundreds of parents commenting on how gorgeous the nursery is.
"I love that it's not a 'showroom', it's a real, lived-in baby room," wrote one admirer of River's snazzy bedroom.
"Looks like the perfect room for dreaming and playing," wrote another.
Little River was born in August 2016, and is Jools and Jamie's fifth child.