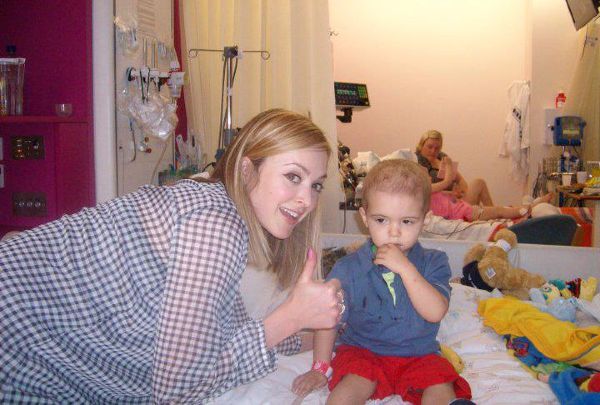 Gorgeous little Blue Tobin was just two-years-old when his mum, Francesca, was told his severe strain of leukaemia could not be cured and there was nothing more doctors could do for him.
However, in the most wonderful turn of events, the toddler was declared medically cured this week, having undergone a world-first, groundbreaking cancer treatment.
After receiving the devastating diagnosis, little Blue was sent home from hospital to die; but his mother got a call to say there was one last hope, in the form of an extremely toxic treatment that had never before tried on a child, and that could potentially kill him.
Gorgeous Blue has been hailed a hero by families of other children who have gone on to be saved by the potentially-lethal chemotherapy treatment.
Now aged eight, Blue visited the famous Royal Marsden Hospital in London - where he underwent his treatment - to meet doctors and ring the end-of-treatment bell - declaring himself cancer-free.
Blue's emotional mum, Francesca Waite, spoke to The Mirror about her son's strength, and how happy she is that he's cured: "He is our little superhero. He amazes me, and he has amazed everyone at the hospital. This will be the first time in five years I won't have to worry about it coming back.
"I would just say to any other mother who receives news like this: 'don't give up'. My son is a miracle, and he is proof [of] what can be done if you stay strong and positive."
Blue was diagnosed with rare acute myeloid leukaemia (AML) in 2011, after he started having nose bleeds and his mum discovered little bruises on his back.
Blue went through two intense rounds of chemotherapy, which seemed to work at first, but his cancer returned just a couple of months later - and it seemed as though all hope was lost.
"The doctor told me there was nothing they could do and he only had a few weeks left. I was told to take him home, but it was all a bit of a blur."
It was just one week later that Francesca learned of the trial treatment, that had just a 10 per cent chance of saving her son's life. "But we had no choice, he was going to die anyway," she said.
The treatment brought little Blue very close to death on a number of occasions, but the superhero was strong, and fought every step of the way.
Now, Blue is back in school, and when asked what he wants to do with the rest of his life, he said: "I want to be a singer, more famous than Bruno Mars."