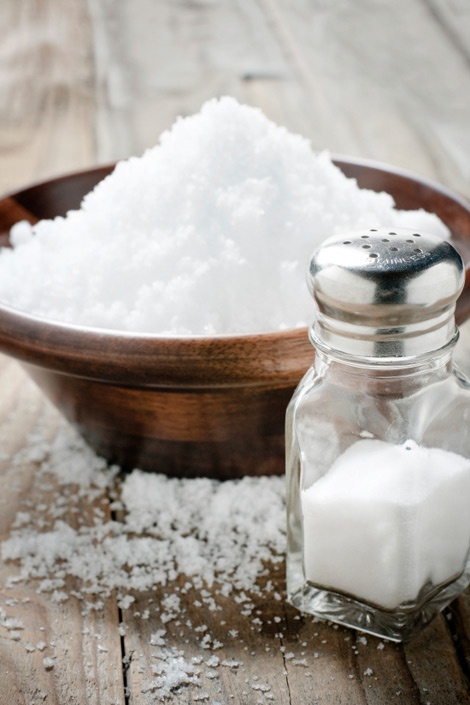 If you're only using salt to flavour your food, you're missing out on its many other uses including house cleaner, stain buster and beauty aids, to name a few.
1. Toss some salt onto a stubborn kitchen counter stain and scrub with a damp dishcloth. The salt will act as an abrasive and the stain should disappear, no nasty chemicals required.
2. Aching feet? Soak them in a salt bath: 12 cups (3 litres) warm water, 2 tbsp salt and 2 tbsp baking soda.
3. Fill a nail hole with a mixture of 1 tbsp salt, 1 tbsp corn starch, and 2 tsp of water to make a thick paste. Let dry and sand if necessary.
4. Wash dirty green vegetables such as spinach in a sink of mildly salted water to make them easier to clean.
5. Had a red wine spill on the carpet? Blot up as much as possible and immediately cover with a generous amount of salt, then leave until dried - the salt should absorb the wine. Vacuum up salt and rinse with cold water.
6. If you've burnt a saucepan, scrape off as much of the burn as you can, cover with water, and add 1/2 cup of salt, then boil for 20 minutes. Remove pan from heat and let stand for 30 minutes before scrubbing and watch the burn vanish.
7. Wet a bee sting immediately with water and cover it with salt to ease the sting.
8. If your dish boils over onto the oven floor, sprinkle salt on top to stop smoke and odour. Once your oven has cooled, you can easily wipe the spill away.
9. Remove stains from old teacups by rubbing with salt and a bit of water.
10. Stuffed up nose? Snort a solution of 1/4 cup warm water and 1/2 tsp salt and then blow. Your nose should be much clearer.
11. Remove odour from a chopping board by pouring lots of salt over the top of it, then rubbing lightly with a damp cloth. Wash in warm, soapy water.
12. Add a pinch of salt to your fresh-cut flowers to help them last a little longer.
Image via Pinterest.