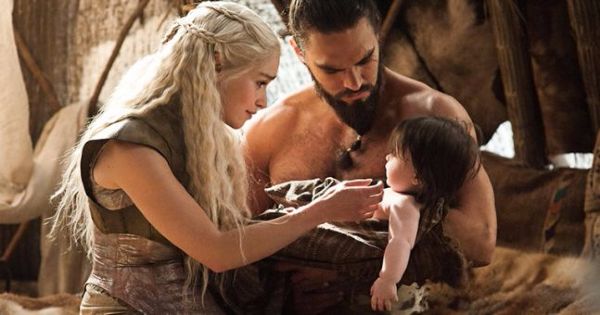 Game of Thrones is one of the most popular shows on television, so it makes sense that people would seek baby name inspiration from it.
We have compiled a list of ethereal and magical names inspired by the HBO series, and we LOVE them all.
Thank us later...
Girls
1. Ayra - after Ayra Stark (means "Noble")
2. Meera - after Meera Reed (means "Prosperous")
3. Nymeria - after Nymeria Sand (means "Warrior queen")
4. Brienne - after Brienne of Tarth (means "Strong")
5. Shae - after Shae of Lorath (means "Courteous")
6. Yara - after Yara Greyjoy (means "Precious gem")
7. Daenerys - after Daenerys Targaryen (means "Born of the storm")
8. Khaleesi - after Daenerys Targaryen (means "Queen")
9. Ygritte - after Ygritte the Wildling (means "Wild bird")
10. Shireen - after Shireen Baratheon (means "Gentle and delicate")
Boys
1. Rickon - after Rickon Stark (means "Innocent")
2. Theon - after Theon Greyjoy (means "Godly")
3. Jon - after Jon Snow (means "God has given")
4. Roose - after Roose Bolton (means "Rose")
5.Eddard - after Eddard Stark (means "Blessed guard")
6. Olly - after Olly of Castle Black (means "Elf warrior")
7. Bran - after Bran Stark (means "Raven")
8. Tyrion - after Tyrion Lannister (means "Nobility")
9. Mace - after Mace Tyrell (means "Powerful weapon")
10. Robin - after Robin Arryn (means "Famed, shining")
SHARE if you are big Game of Thrones fan!