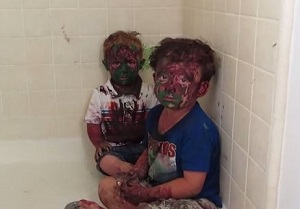 Whether they're trying to entertain you or getting up to mischief, our kids can be downright hilarious when they want to be. 2014 brought us plenty of unwitting child stars and entertainers, and we have compiled a list of the funniest little guys and girls for your enjoyment.
1. The face paint brothers
It's one of every parent's worst nightmares: coming downstairs to find your house and your children covered from head-to-toe in paint. However, this father's anger quickly turned to amusement as his sons tried their very best to play down the almighty mess they had made. You are guaranteed to be in hysterics at this pair.
2. The "apparently" kid
Five-year-old Noah Ritter became an internet star this year, making his TV debut after being asked to talk about a local funfair ride. The news channel got a lot more than they bargained for with this little guy however, who gave one of the most comical and meandering interviews of the year. He went on to feature on The Ellen show, bringing his hilarious brand of presenting to the masses.
3. The boy who wanted a new seat
In what has got to be one of the most hilarious student-teacher correspondences of the year, a little boy requested to move seats due to a conflict of interests over pencil cases, and to be closer to a female classmate whom he 'finds attractive'. This is pure gold.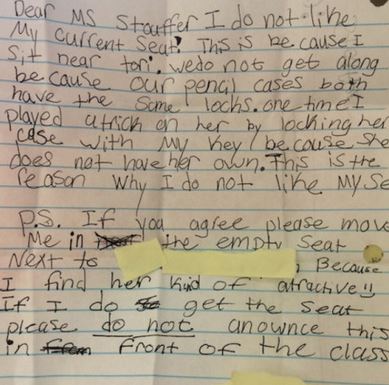 4. Side Eyeing Chloe
When you tell your young child that they're going to Disneyland, you expect them to do one or all of three things: scream, laugh and cry. That is exactly what little Lily did when her parents told her that they were heading off to see Mickey and co. for three days. When the camera turns to little sister Chloe, however, she doesn't seem quite as impressed. The footage of an unimpressed Chloe side-eyeing her sister with confusion spawned a hilarious internet meme that is now an absolute classic.
5. Weather forecast kid
When little Charlie Hale got up in front of the nation to present the weather forecast, a star was born. His natural confidence and charisma impressed the masses - in fact we wouldn't have been surprised if network WGN decided to keep him on!
6. Birthday cake baby
The beauty of this video is that secretly, deep down, we all wish we could be this baby. Forget spoons and plates, forget table manners - we're going into this birthday cake head-first.
7. The Toy Show's Naoise
As well as being pretty well up on his knowledge of trains and toys, Naoise won over the hearts of the nation with his heartwarming story of handing a fiver over to Taoiseach Enda Kenny in a bid to do his part for the country. His tale spawned a series of hilarious memes that called for Enda to return Naoise's hard-earned €5!
8. The "listen Linda" kid
Little Mateo is so small that he can't reach the cupcakes; when it comes to holding his own in an argument with his mum Linda though, he is beyond his years. We think someone has been studying his dad a little too hard!
9. Angry Princess Elsa
Frozen-mania swept the country this year, and every little girl wanted to be just like Elsa. This little one is no exception, and when her parents fail to contain their giggling at her rendition of Let It Go, she unleashes a very un-princess-like fury!
10. Katy Perry's biggest fan
What does it take to stop a little baby from crying in the car? Blasting her favourite Katy Perry song, it seems! We still cannot get over how well this baby has captured the excitement of hearing your tune on the radio.