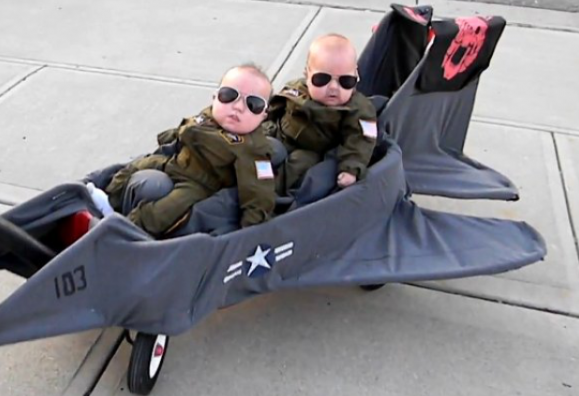 Halloween isn't all it's cracked up to be for some little ones out there and we know exactly where they're coming from! What's enjoyable about being frightened, having to wear a scary costume and facing a dozen werewolves, witches and zombies at every turn? So what do you do when your toddler is afraid of Halloween costumes and has no intention of wearing one?
Involve your toddler in the costume choice. We wouldn't like someone to decide our costume for us and your toddler is no different. Remind them that costumes don't have to be scary and inspire them with fun ideas. Here are a few DIY suggestions that can take the fear out of Halloween and inject a little more fun in to it!
1) How about their favourite character from a film? Your toddler will immediately forget the fear involved in the whole process and just revel in the fact that they're now Buzz Lightyear! All you'll need are some foam sheets in white, purple and green, some glue and scissors and a pair of old white leggings and long sleeved white top!
2) What would your toddler like to be when they grow up? This is the perfect opportunity to take the fear out of Halloween costumes and let them spend the evening dressed as the grown-up versions of themselves! Doctor, teacher or mechanic, you'd be surprised how much of the costume is already lying around the house!
3) Maybe your toddler is a real foodie and would love nothing more than to spend Halloween dressed as a cupcake. (And frankly, who wouldn't?) This costume will necessitate parting with an old laundry basket, acquiring some stuffing and fabric and letting your imagination run wild decorating sprinkles and chocolate chips on your little one.
4) How about dressing as the family pet! If your toddler decides that they're happy to trick or treat dressed as Scruffy the dog or Buttons the cat, your workload will be lessened massively! This costume is very simple. All you'll need are a pair of leggings and a long sleeved top in the right colours. Even better if you can pick up a fur covered gilet –this makes the costume even more authentic and keeps your little one snug against the October wind. Cut the leg off a pair of tights and stuff with socks for the tail and then help your toddler to paint their face like their favourite pooch.
5) Many little girls would be delighted to get the chance to dress up as Little Red Riding Hood. Again, this requires very little effort. You'd be surprised how much of your daughters wardrobe would have the necessary pieces, but if all else fails, the majority of joke shops will have the few accessories you may need to pick up.
6) Little boys dressing as scarecrows makes life very simple for mum and really fun for toddler. While girls have a lot of Little Red Riding Hood accessories, boys generally aren't scarce on scarecrow paraphernelia. A plaid shirt, anything denim and a lot of straw will do the trick!