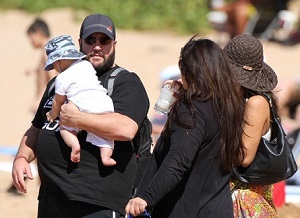 More wonderful baby news this morning, as it has been revealed that actor Kevin James is expecting his fourth child with wife Steffiana de la Cruz.
A representative for the King of Queens star confirmed the news to People magazine.
Kevin and Steffiana, who have been married for 10 years, are already parents to a son and two daughters: three-year-old Kannon, seven-year-old Shea Joelle and nine-year-old Sienna-Marie.
Previously opening up on fatherhood, the 49-year-old actor said: "You kind of loosen up with the second child a little bit, which is nice."
"The first child, I remember when they just give it to you at the hospital, you're supposed to put her in the car seat and drive home. I was 10-2 on the wheel in the right lane, 30 miles an hour on the highway, with the flashers going," he added.
No doubt it will be a busy time for Kevin, with a number of exciting films to promote over the coming months. With lead roles Mall Cop 2 and Pixels, the star will certainly have his hands full!
Such lovely news. Huge congratulations to Kevin and his family.