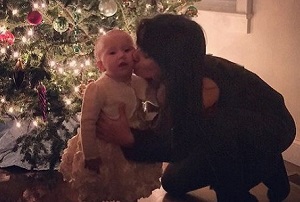 She has already walked the red carpet with her mum, and now it looks like little Carmen Baldwin is setting her sights on a pop career!
Proud mum Hilaria, who announced on New Year's Day that she is expecting her second child with actor husband Alec, took to Instagram to share little Carmen's new talent.
Clearly a Frozen fanatic, the one-year-old goes on to give her mum (and her entire social media following) a rendition of Let It Go – and it doesn't really come much cuter than this.
Sharing the video on the photo and video blogging site, yoga instructor Hilaria wrote: "Carmen would like to share her performance of Let It Go (in case you haven't heard this song enough already)…her bersion comes with slamming the door on mommy in the shower."
This is just too cute!