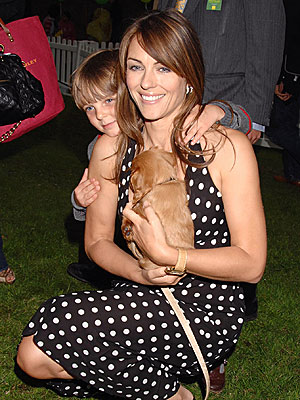 Actress and model mum Elizabeth Hurley has been the face of Estee Lauder's breast cancer campaign for nearly 20 years.
So she decided to share the experience of her latest mammogram on social media to raise awareness for the illness.
The 48-year-old mum admitted that while she finds the procedure 'nerve-wracking', she stressed the importance of regular breast screenings.
Having arrived in New York for a charity gala yesterday, Elizabeth prepared for the event by having her breasts checked at the Evelyn H Lauder Breast Centre, posing for a selfie before the procedure.
Posting the photo, she tweeted, "After 40 you should have an annual mammogram. Had mine this morning. It's always nerve wracking but remember...
"Breast cancer is 95 per cent curable if detected early @BCRFcure @BCAcampaign @EsteeLauder."
Breast cancer is a cause close to Elizabeth's heart after she lost her beloved grandmother to the disease in 1992.
In a past interview, Elizabeth said, "She was 75 when she found a [breast] lump, and she was too scared to tell anyone about it.
"I think she was hoping it would go away if she ignored it. At that time [in 1987], breast cancer was a dirty word that was only whispered.
"Today, we shout about breast cancer from the rooftops."