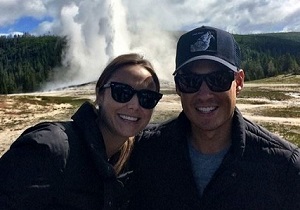 She gave birth to her first baby back in August, and finally actress and model Stacy Keibler has shared the first photo of her gorgeous daughter Ava.
In a beautiful dedication to her first child, the 35-year-old shared the black-and-white photo on her website, as part of an emotional dedication to her child and her journey to motherhood.
In the post entitled 'Blessings', Stacy opens up on how the unexpected arrival of little Ava has transformed her life.
"Life can be unpredictable. You feel one way, and then…boom! You need to entirely change your perspective. This is certainly what happened to me this past year. Until I started dating Jared, the idea of being married and having a family was never on my radar," she wrote.
Stacy, who married Future Ads CEO Jared Pobre in 2014, after years of friendship, added: "Ava has graced us with such joy, such light and such love – we never saw it coming. She is our special little lady, and I couldn't be more thankful for how she has opened my heart."
Stacy surprised everyone when she wed Jared in March, after a whirlwind romance. The star has since described the beginning of their romance as "a serendipitous reconnection".
The couple announced the news that they were expecting in the same month as their marriage, and welcomed little Ava Grace in August.