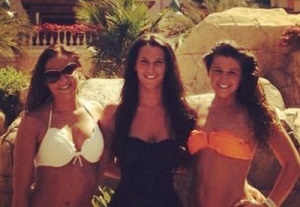 With her due date fast approaching, it seems as though Eastenders star and mum-to-be Jacqueline Jossa is making the most of the time she has left with her baby bump.
The star, who is expecting her first child with boyfriend and TOWIE star Dan Osborne, took to Instagram today to share a photo of her baby bump, but with a creative twist.
Jacqueline has been known for posting gorgeous baby bump photos throughout her pregnancy, but this time around she was sporting a Kinder Egg design!
Taking to the photo blogging site to share the creative shot, the 22-year-old wrote: "Our little Kinder Surprise."
It seems that the pair are getting very excited indeed, as Jacqueline's due date nears.
Proud dad Dan took to his social media channels earlier this month to unveil the gender of their unborn baby, sharing a photo of themselves cutting into a pink cake to reveal that they are expecting a daughter.
This is certainly a new take on a baby bump selfie, and we have to give them points for creativity!