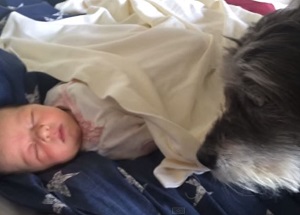 More and more, we are presented with beautiful photos and videos that prove just how wonderful a baby's relationship with a family pet can be.
In the latest video to win over the Internet, a father shares amazing footage of his dog's reaction to the cries of his baby as it tries to get to sleep.
In one of the most touching displays of animal affection you will ever see, this pet takes it upon himself to ensure that the baby is as comfortable and cosy as possible by tucking it in.
Yes, you read that correctly, the family dog actually tucks the baby into its blankets!
Check out this gorgeous moment in the video below, and prepare to have your heart melted.