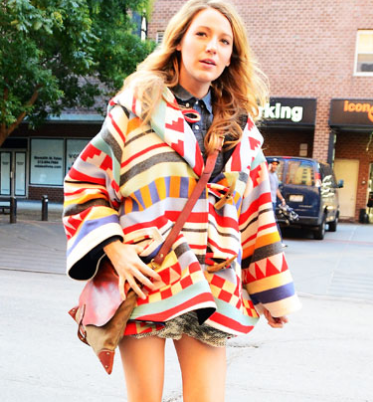 Blake Lively really knows how to work her new pregnancy figure,doesn't she? Last week, she stunned us all in a beautiful floor-length gown at
an awards ceremony in New York city
, but we can't be the only ones who secretly assumed the 27-year-old
Gossip Girl
star had pulled out all the stops for the red carpet and then flaked round in sweats for the rest of the time, can we? Well, how wrong were we?
While some women crave peanut butter and gherkins while pregnant, it seems Blake's pregnancy has really brought on a thing for bold print and 70's style footwear if her latest snaps are anything to go by. Papped out and about numerous times over the weekend, she rocked a combination of floral, striped and plaid ensembles...and seriously made them work!
In a show of support for former co-star America Ferrera with whom she starred in The Sisterhood of Travelling Pants, the mum-to-be reunited with the rest of the cast to watch America's latest off-Broadway performance in Lips Together, Teeth Apart. And what did she wear? A matching puppy-print trouser and blouse ensemble and looked sensational.