What a wise woman told me about baby wipes - it changed my life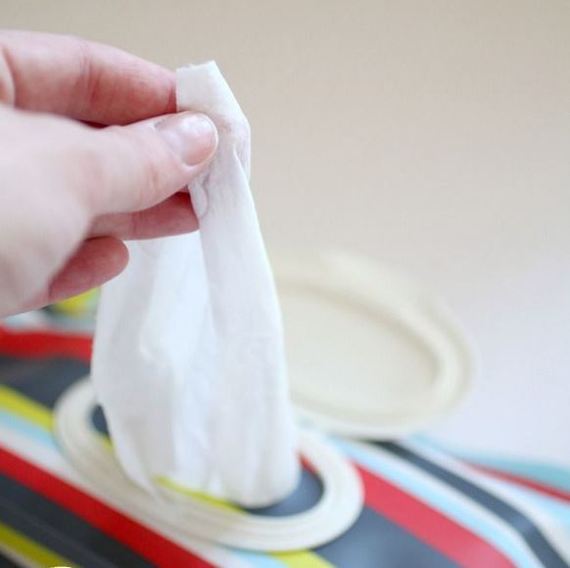 When I was pregnant a friend gave me some sage advice regarding baby wipes. Firstly, never pay full price for a packet unless it's an emergency as they're always on offer and secondly, be careful of buying highly perfumed brands because you'll start to associate that scent with the scent of baby poo. At the time I didn't see the problem here, surely that's all I'd be using them for. She smiled and shook her head. "You'll see," she said.
Anyway I followed her advice and by golly she was right. I always get wipes on offer, just as she instructed and despite trying various brands, I settled on one that was indeed lightly scented. Because she was right to laugh; I use them LOADS.
1. Cleaning the bathroom
If I've got people coming over and the bathroom needs a quick spruce, but I haven't got time to grab the Cilit Bang, a baby wipe works wonders. Soap scum, limescale, you name it. If you visit me and my sink is shiny it could well be thanks to the power of the baby wipe. If the sink isn't shiny then I didn't know you were coming, obviously!
2. Removing marks from the sofa
We have a pale silver sofa. Yeah, yeah I know, maybe not the most child friendly colour, but we love it. And yes, through the miracle of the baby wipe, it's still pale silver. From grass to chocolate to mustard (you know the bright yellow American stuff) it's all come off with a wipe with the magic cloth. And yes, the last one was me!
3. Getting bird poo out of your hair
Unfortunately, this one happened to me. It was before I had children and so wasn't in the habit of always having wipes on me, but fortunately I was with a friend and her quick thinking sister (who is also a mum). One baby wipe later and no more bird poo in my hair. Take that, Mr Seagull!
4. Cleaning shoes
I don't clean shoes. Like ever. I'd had my knee high boots a year before I thought I better give them a once over and had to be taught how to use tin polish and a brush. Now, my preferred method of sprucing up any shoe is the baby wipe. Cleans plastic up a treat obviously, but also works great on leather. Particularly white leather for some reason. Which is lucky due to my insistence at wearing white Birkenstocks every year.
5. Coming to the rescue
You know the scene: a father has taken his child to the supermarket with no supplies because they're 'only popping in'. Said child then tips half a dozen eggs all over themselves and the trolley and the dad and the floor. Dad looks ashen. That's when you sweep down brandishing your trusty wipes. Or at least I did, equaling one very grateful daddy, who won't ever leave the changing bag at home again!
So my wise friend was right. Who would want their bathroom, sofa, hair and shoes, in fact their whole daily life smelling of poo? I use baby wipes so much I'm pretty sure I'm going to keep buying them long past toilet training.
Do they do handbag sized packets?
Lisa Savage lives in Surrey and is a SAHM to three-year-old Oscar. She writes at Mrs Savage Angel about their lives, muddling through parenthood, Oscar's newly diagnosed ASD and her six stone weight loss.
Image via Pinterest