When the mother-in-law came to visit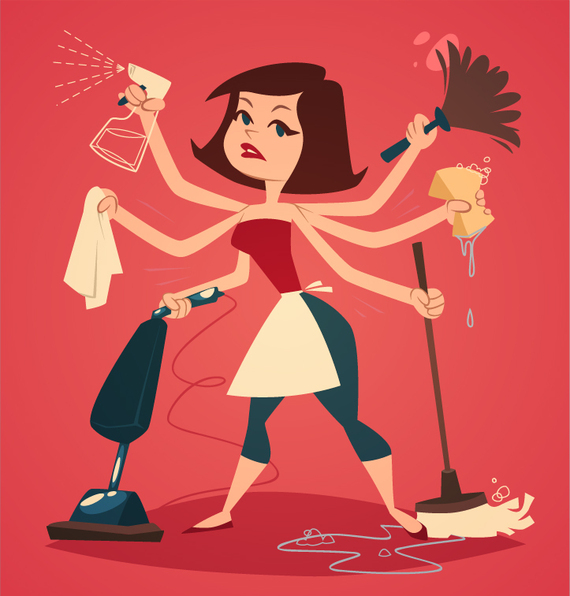 I'm not an untidy person – or a 'slattern' as my Nanna would have called it. I hoover, I wipe down surfaces, I wash dishes and clothes and when I absolutely have to I clean the bathroom, but that's about it. It's not that I dislike cleaning, it's just there are other things I could be doing. Like writing, or playing in the garden or baking or snuggling with my boy. Basically, there are a hundred and one things I'd rather be doing in the house than cleaning.
That is until we have an impending visit.
I'm not just talking about a Mummy Buddy popping over for a play date or friends coming round for dinner - I'm talking about a Royal Visit. Royalty more important in our lives than the Queen herself. I'm talking about a Mum Visit and last week it was the Mother-in-Law.
A whiff of a Mother-in-Law visit and I'm scrubbing the house as if my life depends on it. I'm not really sure why. She's not my mum and if The Hubster's not bothered about what his mum thinks, why am I? Also she's not the kind of person to judge me harshly aboout anything, let alone the state of my house. So what is it that sends me in a two day long frenzy of cleaning?
I'm not just talking any old cleaning; I'm talking a full-on bleaching, wiping, scrubbing, washing and mopping job. I even do my absolute least favourite task: hoovering our two flights of stairs.
Do I think that by making the house look like no one lives there, she'll think 'better' of me? That she'll feel more comfortable in our home or deem me a fit wife for her boy and a good mother to her grandchild? And do I give two hoots if she does?
The answer is a resounding NO on all accounts. I've been with her son since I was 19. That's 17 years! She knows who I am by now! So why do I still insist on doing it? Every. Single. Time.
God forbid she ever popped by unannounced (unlikely as they live 300 miles away, but you never know). She'd have a heart attack if she ever saw what our house normally looks like! Maybe I am a slattern after all…
Someone pass me the Domestos, quick!
Lisa Savage lives in Surrey and is a SAHM to three-year-old Oscar. She writes at Mrs Savage Angel about their lives, muddling through parenthood, Oscar's newly diagnosed ASD and her six stone weight loss.