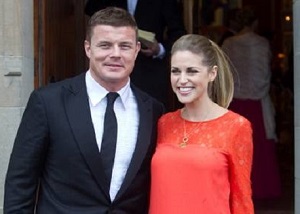 They have received plenty of well wishes since the birth of their son Billy this month, but there was one message that particularly stood out for Brian O'Driscoll and Amy Huberman.
Taking to Twitter to share a photo of the sweet card the couple received from a little boy named Adam, Brian wrote: "Firstly there was a couple of bob for our little one and now the wee man getting a few quid."
The rugby star added the hashtag 'Generous Adam', which has since been trending in Ireland!
In the adorable message, young Adam taped a €2 coin to the inside of a card, with the accompanying message reading:
"Congratulation [sic] on your new baby boy Billy. Hope he is not too noisy. P.S. Please stop having babys [sic] you will have my bank account cleared out. Love Adam."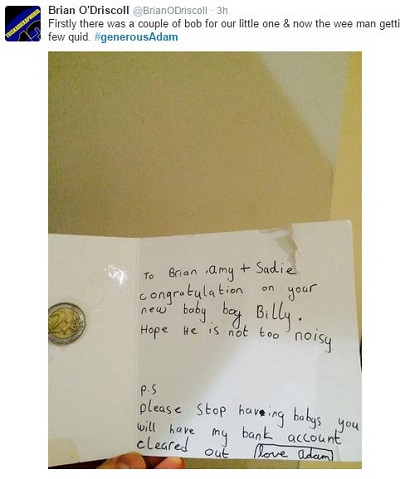 This isn't the first time the couple have experienced the generosity of a young fan. Earlier this year, Amy took to Twitter to share an adorable Christmas card that they received from a little boy in which they were told to "chill the wine"!
Fair play to 'generous Adam'. With manners like that, he will go far!