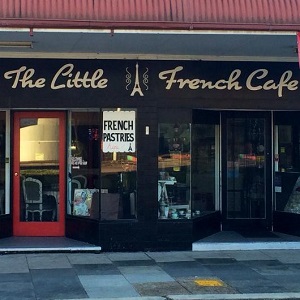 An Australian café owner who banned children from her business has stuck by her original statement, despite facing huge backlash from angry customers.
Jodie Morris, the owner of The Little French Cafe in Newcastle, New South Wales, came under fire after posting a Facebook message on her business page in which she said her business was "not child friendly".
Jodie posted the comment after receiving a one-star review from a customer who said that the café did not seem like a child-friendly establishment, with her original post – since removed – reading:
"Are we child friendly? If you are looking for a cafe with a children's menu, baby chinos, a play area, lounges for your children to jump on, vast space for your prams, an area for your children to run rampant, and annoy other customers, while you are oblivious to them — then the short answer is No, we are not child friendly."
Naturally, Jodie faced major backlash from furious customers, but, describing herself as a "straight shooter", she maintained her stance in another post, writing:
"I have been subjected to children emptying salt and pepper shakers into my fireplaces, parents changing nappies on my lounges, kids grinding their own food into my carpet, parents sitting babies in nappies in the middle of dining tables, kids running around the cafe like it's a formula 1 track, jumping on the furniture, screaming - just for fun - not pain, and encouraged by their parents, upsetting the rest of the customers and I'd really just had enough."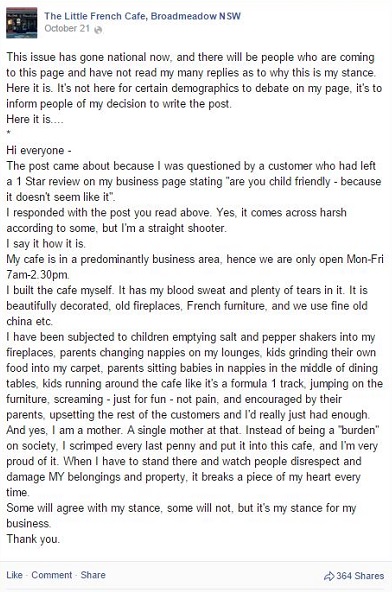 Jodie, who is herself a mother, added that while she knows her words may have come across as harsh, she is sticking by them. Indeed, she went on to thank her customers for their well wishes, many of whom have taken to her business page to voice their support of her policies.
What are your thoughts? Is Jodie justified in imposing these rules in her business?