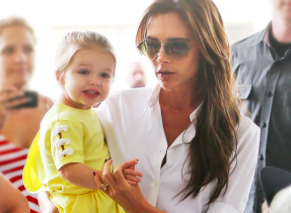 Victoria Beckham has found herself at the centre of something of a debate regarding her three-year-old daughter's use of a dummy, after a paparazzi shot showed Harper using one in recent days.
A newspaper article criticising the mum of four for allowing Harper to use a dummy came under serious fire but also proved to have some supporters.
One person slammed the article as : "judgemental and one-sided" while others said that it is up to the mum of the child to decide when the dummy will be given up.
However, many others sided with the article and the point of view that use of a dummy at Harper's age can be damaging to her speech and other dental issues.
We're sure Victoria knows what is best for her daughter, just as any mum would when it comes to these situations, but it seems she has certainly caused an online debate surrounding the use of dummies for older children.