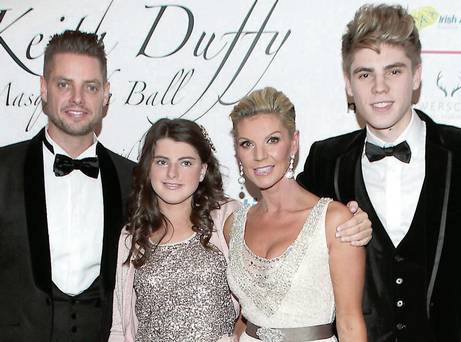 Today marks World Autism Awareness Day and Keith Duffy has shared his own experiences of being a dad to his autistic daughter Mia.
The former Boyzone singer and his wife Lisa's 14-year-old daughter Mia was diagnosed with autism when she was 18 months old.
Keith said the couple first noticed that Mia was acting differently to other children on a trip to Disneyland when she was one and their son Jay was four.
Whenever she got excited she'd bend one hand and stretch out the other. She slept very little, didn't hold eye contact or socialise well, the dad said.
Keith said it was when he went to a charity event for the education of children with autism, that he realised his daughter had the condition.
The former Corrie actor said his wife's first reaction to the news was to slap him.
"She could see I'd been crying and she panicked. I just said 'Mia is autistic' and her initial reaction was to slap me," he said. "Then she burst into tears because we knew there was something, we just didn't have a name for it – now we did and it made it real."
Keith said the couple wondered if they were somehow at fault. "My wife never smoked or drank when pregnant, she's very healthy but she blamed herself and what she could have done differently when she was pregnant. But it wasn't her fault – nobody knows how autism originated."
Now a teenager, Keith said Mia is fully aware she has autism and has different ways of processing things.
"This upsets her from time to time," said Keith. "Socially she still enjoys being on her own, and her friends are growing up a lot quicker than her emotionally. They all go to the shopping mall on a Friday evening in a short skirt and make-up to find boys and Mia's not in to that at all."
Keith has dedicated a lot of his time to raise money and awareness of autism and was named National Philanthropist of the Year for his work with Irish Autism Action (IAA) last year.
Keith said that his daughter's condition has helped him reach his own full potential.
"I could get on stage with Boyzone and entertain but when it came to public speaking or talking sincerely I'd disguise my shyness by trying to be the joker. Mia gave me the confidence to be able to stand on stage and speak about something I feel passionate about. She's given me that person," he said.
For details of all events happening on World Autism Day, visit www.autismspeaks.org or go to Keith's website www.officialkeithduffy.com/autism.