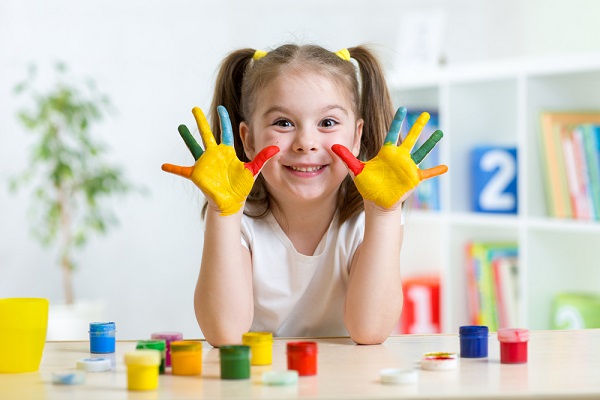 This Twitter thread is exactly the piece of sunshine we needed today.
Writer Tessa Dare was out with her friends children when the 5-year-old spotted a crow. She called a "Halloween eagle". Too cute.
My friend's 5-year-old just saw a crow and called it a "Halloween eagle."

And a child shall lead us. It is known. This is the new name for the bird-formally-known-as-crow. You know what to do, @MerriamWebster.

— Tessa Dare (@TessaDare) 30 May 2018
Thus started the cutest Twitter thread we've seen in yonks- alternative names kids give to things.
From animals:
My 5 year old son calls seagulls "beach chickens"

— Amy Bingham (@thisgirl140) 4 June 2018
A friend's 5yo was wailing about seeing "flamingo witches" after watching the National Geographic channel. Took a little while to figure out she was talking about vultures.

— jillian (@jilliank245) 30 May 2018
To all kinds of food:
My nephew calls all pockets on his clothes "snack holes"

— Renee (@reneeleore) 5 June 2018
When my oldest was around 4, he taught us that the real name for tortillas is "circle bread"

— c-dub (@camillewwATL) 5 June 2018
Pesky body parts:
When my daughter was 4, she starting calling her veins "Blood Travellers".

— Ricki McLarty (@RickiMcLarty) 5 June 2018
My five year old was explaining to me how she solved a math problem, "When I didn't have any more fingers, I just counted my toe thumbs." From this day forth our big toes will forever have a new name.

— Love2Teach (@KChinTeacher) 5 June 2018
A kindergartner told me she liked my hand socks...gloves obviously. But now forever hand socks.

— Jenny Watson (@msjennywatson) 30 May 2018
All about that technology:
My 2 yo thinks Siri is called Seriously. She doesn't actually know how to use Siri, so she picks up my phone and yells "seriously! call grandma!" at the screen.

— Francesca (@fndesimone) 30 May 2018
This kids is going places- literally:
When my son was little, he used to say "fasting" instead of running. "Look Mom! I'm fasting!"

— Luka Tate (@lukatate) 30 May 2018
Wrong time and place maybe? Still hilarious though.
My 5-year old attending his first funeral seeing the closed casket: "Is that a Dracula Bin?". It is now!

— Eric Oliver (@MrEricOliver) 4 June 2018
Transport will never look the same again:
My education professor told us his daughter referred to airplanes as "choo-choo birds."

— David Learn (@marauder34) 5 June 2018
Hygiene first, adorableness second:
As a kindergarten sub, I heard a 5yo refer to hand sanitizer as "hanitizer" and now that's the only way I refer to it.

— Machine "Pun" Kelly (@NotThatKellyAnn) 30 May 2018
Surprisingly deep and poetic...
My daughter once referred to dreams as "The Stories In My Eyes"

— lama-j spelt bakword (@lama_j) 30 May 2018
That just made our day! Do you have any cute kiddie names for things?