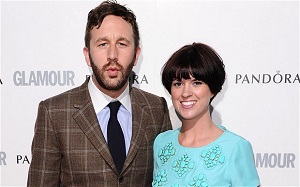 We know Chris O'Dowd to be one of the funniest actors on the big screen, and even his pregnant wife can't seem to escape his jokes!
Chris was appearing on The Jimmy Kimmel Show last night, when talk naturally turned to the fantastic news of his wife Dawn O'Porter's pregnancy.
The Bridesmaids actor was typically adoring when chatting about his presenter wife's news, but couldn't help but crack some jokes at poor Dawn's expense.
When asked how Dawn was coping with her pregnancy, Chris said: "She's good, she's terrific – she's a good, big, strong girl now!"
"I'm kidding. She's amazing, she's really taking to it," added the father-to-be, before launching into the details of a pretty hilarious prank he played on his unsuspecting wife recently.
Check out Chris' anecdote below – we hope Dawn can take this in good spirits!
Chris and Dawn revealed their amazing news back in August, choosing to share it with the world through a very special version of the ALS Ice Bucket Challenge. After nominating "Baby O'Porter" for the challenge, Chris turned the camera to a proud Dawn tipping a glass of water over her bump.
We would imagine that Dawn is well used to Chris' antics by now!