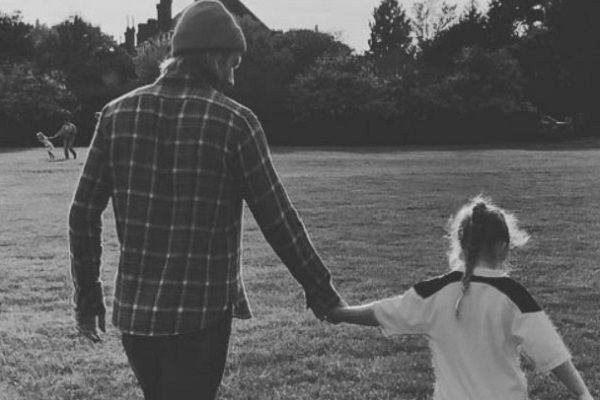 Former professional footballer David Beckham is like royalty in the world of sport. The father-of-four shared his skills with daughter Harper over the weekend.
David took to Instagram to share the sentimental snaps of his daughter Harper, who was playing football with her darling dad.
The dotting dad wrote on Instagram saying, "Someone's ready for her first football lesson", alongside a touching black and white video of Harper who can be seen holding her dad's hand as they walk in the park.
In the photo, the six-year-old is wearing the sweetest football kit and has her hair braided.
David shared two videos of Harper showcasing her football skills, which she clearly inherited from her talented father.
In the first video, David and Harper can be seen walking hand in hand as they kick a football around the park. The father and daughter pass the ball to one another for a while, until David runs up to cuddle his daughter.
The second video shows young Harper giving her dad a run for his money. The youngster is practicing kicking the ball as her dad passes it to her.
Harper kicked the ball so high that David, who was inducted into the English Football Hall of Fame in 2008, struggled to catch the ball.
David understands that his children will have their own passions and dreams. He doesn't expect them to follow in his footsteps. He spoke to the Telegraph about his four children, "If they don't want to play, I'm not going to get upset about it. As long as they've got an ambition, as long as they're passionate about something, that's all I want for them."
Despite is huge successes in life, from his days as a professional footballer to his modeling career, David says becoming a father will always be his biggest achievement.
He revealed that his four children- Brooklyn, Romeo, Harper and Cruz- are his pride and joy. David opened up about fatherhood when he spoke to InStyle magazine, "My children mean the world to me. Being a parent is always the best thing, but it can also be challenging, you want to set the right example."
David knows parenthood can be daunting at times, but he has a special bond with each of his children. He tries to spend as much quality time with the mini Beckhams as possible. He recently took Harper to Buckingham Palace to celebrate her sixth birthday.