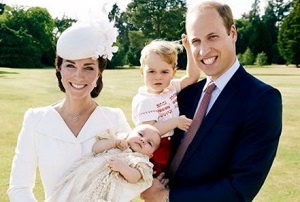 There was much fanfare last weekend as Princess Charlotte was christened at a special ceremony in Sandringham, and now details of some of the elaborate gifts she received from loved ones have been shared.
The gift which is catching all the headlines this morning is a stunning seven-foot-wide piece of artwork featuring a scene from Disney's Snow White and the Seven Dwarves. The canvas, created by artist Stephen Cawston and valued at over £125,000, is said to have been commissioned by a close friend of the Duchess of Cambridge.
Doting grandfather Prince Charles opted for a solid silver photo frame engraved with his insignia, containing a photo of himself with his grandchildren, while another unidentified family member is said to have gifted Charlotte with a christening pin bearing her initials.
Princess Charlotte's nanny, Maria Borallo, reportedly organised for the delivery of a specially-made christening layette from the Spanish store Irulea, the same store from where Charlotte's famous first outfit was bought.
Meanwhile, proud aunt Pippa Middleton opted for a fashionable gift for her niece, presenting her with designer clothes.
What a lucky little Princess she is!