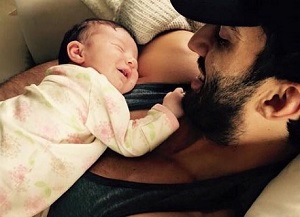 From creating that beautiful pregnancy announcement to paying tribute to his beloved wife, this actor has warmed our hearts over and over since his baby journey began – and now he has won the internet yet again.
Actor Justin Baldoni became a father for the first time last month, when he and wife Emily welcomed daughter Maiya Grace into the world. Now, the Jane the Virgin actor has given an insight into how fatherhood has affected him, in a stunning new Instagram tribute.
Taking to the photo-blogging site to share a brand new photo of his month-old tot, the 31-year-old wrote: "Dear Maiya, Now that you're here, my heart will forever exist outside of my body."
"You and your mother are my world, and I will forever do all that I can to make it better for the both of you. Love, Daddy," he added.
Justin's latest moving tribute comes just weeks after he wrote an open letter to new mum Emily, thanking and praising her for carrying and delivering their beautiful daughter.
"I may have thought I loved my wife before…but I'm not exaggerating when I say I absolutely worship her now. Emily chose to make our little Maiya's birth a ceremony of love, and all I could do was say thank you, thank you, thank you…through tears and tears of gratitude," he wrote in a post that went viral.
Well, that has certainly brightened up our Saturday!