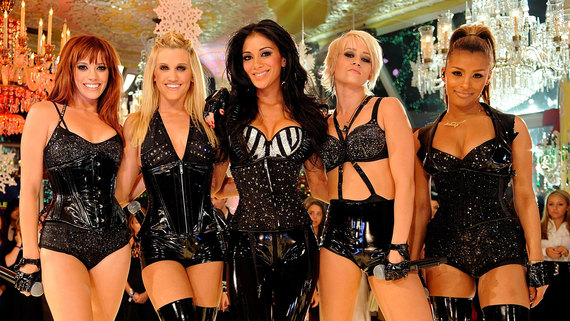 Former Pussycat Doll Kimberly Wyatt and her model husband Max Rogers were on their honeymoon in New York last April when they discovered they were going to be parents for the first time.
Kimberly, who is currently a judge on Got To Dance, is very excited, and is planning on raising the baby in England, even though she's American herself:
"I love the life Max and I have built here. England is home for me now.
"And there is nothing cuter than having a baby growing up with a British accent."
Kimberly says that keeping her pregnancy under wraps was a bit of a struggle at times, especially when she had to do a naked photo shoot for a fitness campaign. How she managed this, we'll never know, but it must have been in the very early stages as she doesn't think she would get away with it anymore: "I feel like in the last day or two I have literally gone 'pop'."
The singer is still best friends with her former band mate Ashley Roberts and says that she was delighted when she heard the news:
"When I told her, it was so emotional - she was thrilled for us, which was lovely."
The singer couldn't wait to find out the sex of her baby, and at her second scan, at 20 weeks, she found out she'll be having a little girl:
"They said, 'You're going to have a daughter'.
"And then when I felt her kick, it really connected with me - I'm just delighted."
Congratulations to the happy couple.