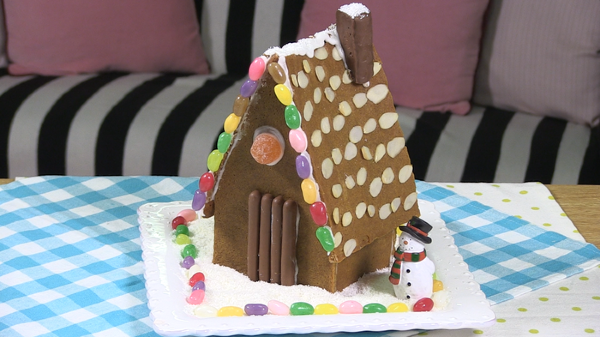 Nothing says Christmas fun quite like an evening of baking with your little ones, and this gorgeous gingerbread house is the perfect choice.
While we admit that it is a fiddly recipe, the final results are so gorgeous- and the kids will be very proud of themselves.
Perhaps a good suggestion would be for you to make the house, and simply let the kiddies decorate?
Either way you are guaranteed some wonderful festive fun.
What you'll need:
250g butter, melted
200g dark muscovado sugar
7 tbsp golden syrup
600g plain flour
2 tsp bicarbonate soda
4 tsp ground ginger
To decorate:
200g flaked almonds
2 egg whites
500g icing sugar
125g mini chocolate fingers
Sweets of your choice
1 mini chocolate roll
Desiccated coconut
What you'll do:
Preheat oven to 200°C/400°F/Gas 6.
Place the melted butter into a saucepan. Add the sugar and golden syrup heat until the sugar has dissolved.
Mix the flour, bicarbonate soda and ground ginger into a large bowl.
Pour the melted mix over the dry mix and bring together to form a dough.
Roll the dough out on a floured work surface to about ¼ inch thick.
To download the template for the house click here.
Cut out the sides, the front and back walls and the roof panels, re-rolling the trimmings as necessary.
Transfer the pieces to a lined baking tray.
Pick out the best flaked almonds to use as slates for the roof. Stick them in pointy side first to the roof panels.
Bake in the preheated oven for about 12 minutes.
Leave to cool completely, then trim the edges to give clean lines.
Place the egg whites into a large bowl, sift in the icing sugar, then whisk until a thick paste is formed.
Spoon the icing into a piping bag. Pipe generous amounts of the icing in between each join to build the house. Press and hold each piece in place for a few minutes while the icing dries.
Pipe some icing on the back of some chocolate fingers to form a door.
Slice a piece from the end off the mini chocolate roll to and stick it to the roof with the icing to form the chimney.
Decorate with sweets as you like, using the icing to allow to stick them on.
Scatter with desiccated coconut to resemble snow.
Chef's Tip:
The house will be edible for one week but will last as a Christmas decoration for much longer.
SHARE if you want to make this with your kids.