tommee tippee® sangenic® Nappy Disposal System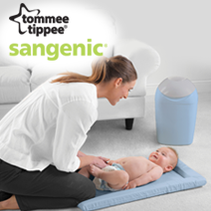 Join this group
Change-time is one of those tasks parents love to hate! It can be time consuming, smelly and messy, but the tommee tippee® sangenic® Nappy Disposal System is here to help. What's more, from September, it will be available in new limited edition pink and blue.
The sangenic® Nappy Disposal System offers proven protection from germs and odours, individually sealing each nappy away in seconds! The tub holds up to 28* nappies too, meaning fewer trips to the wheelie bin and more quality time with your baby.
The system twists and locks away germs and odours, and has a plunger, which pushes the nappy away deep into the tub. The film kills 99% of germs on contact, which means it is a hygienic way to dispose of nappies, ensuring baby's nursery is a much sweeter smelling place to be!
We are looking for 5 mums who would like to try the tommee tippee® sangenic® Nappy Disposal System. To be in with a chance of participating in this trial, please join the group and leave a comment. In the event that we are oversubscribed, we will make our selection at random from qualifying entries.