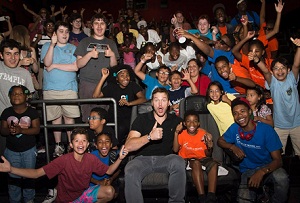 Chris Pratt decided to give a once in a lifetime surprise to the kids at a special charity screening of his new film, Guardians of the Galaxy. As the film ended the star emerged to the shock and delight of the 250 kids and their families, and spent the evening chatting and taking photos.
"That was really fun, this is what it's all about," Pratt said afterwards. "I get impatient sometimes being on a promotional tour all the time, but something like this I would sit here as long as it took to take a picture with every one of those guys."
"Tonight was really special to me."
The screening was organised by the charities Variety the Children's Charity of New York and Children of Promise, who raise funds for disadvantaged children; providing food, education and medical assistance.
Before leaving, Pratt offered his advice to the underprivileged kids on succeeding against the odds: "Take it from a kid who came from no money: if you stick to your path, you can be your own Star-Lord."