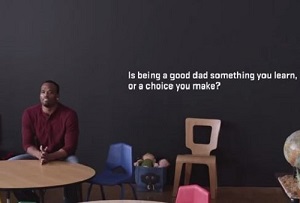 With all the hype of the halftime musical performances we can look forward to at this year's Superbowl, it's refreshing to see a different focus in one of the ads that is set to play during the major event: fatherhood.
In the video, released today, a series of both current and former football stars appear before the camera to discuss what being a dad means to them, as well as some of the major lessons they learned from their own fathers.
It's as heartwarming and emotional as it sounds, particularly as LaVar Arrington, former pro footballer, recalls how his father, who had prosthetic legs, cleaned gutters to support his family.
This is an incredibly touching and candid piece of footage, and one that will definitely make you reflect on the lessons you learned from your own father, and perhaps even those that your partner is passing on to your children.
This is right up there with this tear-jerker of a video about motherhood.
Check out the ad below.