A courageous man helped save a three-month-old girl from drowning after diving into freezing cold water and cutting her free from her car seat in an overturned SUV.
Leo Moody was driving home from work in Maine, US, when he spotted a vehicle sitting upside-down in two-and-a-half feet of water, down an embankment off the side of the road.
Quick-thinking Moody pulled over to call the emergency services, before going down to the scene to investigate.
After being informed by one of the passengers that there was a baby in a car seat in the back, Moody entered the freezing water to rescue the infant girl.
In water that froze his fingers to the point of numbness, heroic Moody managed to free the baby from her seat using a pocket knife to cut the straps.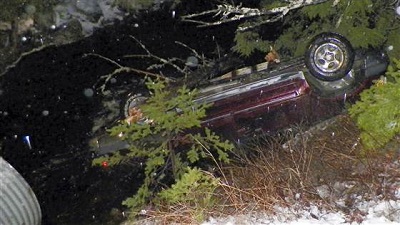 A bystander, Wade Shorey, carried out CPR on the baby to revive her before an ambulance arrived to transport her to the nearby Eastern Maine Medical Centre.
It is believed that the driver of the SUV lost control of the vehicle on an icy stretch of road, sending the vehicle crashing down the embankment.
The driver and two other passengers were treated in hospital for minor injuries and have since been released.