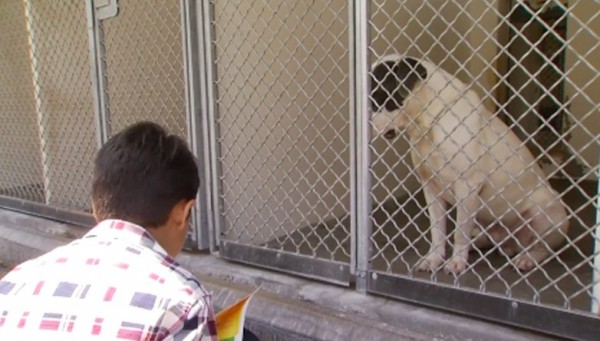 Dogs who live in shelters have, by and large, had tough lives. You only need to look into their scared, anxious eyes to see that.
And while nothing can change what happened in their lives, one little boy is doing what he can to boost their spirits.
For the past year, six-year-old Jacob has spent one afternoon a week visiting lonely dogs at the Carson Animal Shelter in L.A., where he sits down beside their kennels and reads them a story.
While it might seem like a small gesture, it has a major effect on the shy, anxious dogs, who become visibly calmer and more relaxed as the visit goes on.
"He loves it," Jacob's mum Katherine Tumalan told The Dodo.
"The dogs get so in tune with him. They might be barking and going crazy, but when Jacob reads to them, they become calm and focused, their tails wagging."
And young Jacob is benefiting too.
The young autistic child struggles in noisy environments, but his mum has noticed that he's not distracted as easily anymore, nor does he get upset by loud noises so much.
"Sometimes, loud noises used to make him cry or act out," Katherine said. "But now, he's focused. He's learned to not let all the noises around him bother him. It's pretty awesome."
What's more, the little boy's reading skills have really improved.
"It's been a huge thing. He's come a long way," she said. "I just got a report that my son is reading at almost a third-grade level now. It's really helped him, and the dogs too."
SHARE is this gave you that happy feeling.