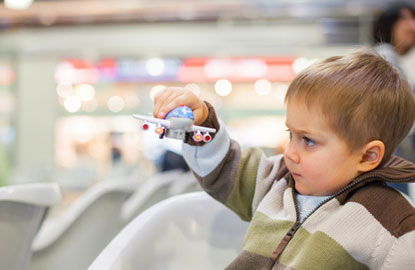 Delayed flights are something that is completely out of our control, and also very annoying to boot.
You're all geared up for your holiday, you've planned everything to the last detail, and yet the notice board says you're facing a long and frustrating wait.
While we've no say in when our flight takes off, here are some tips to help you avoid delays entirely, or weather them out if needed.
1. Prevention is better than cure
Phone the airline or check their website before you set off to the airport, to make sure there are no delays and everything's running on time. If there are serious delays the airline will most likely know in advance so you can avoid this hassle entirely and stay at home for an extra hour or two.
2. Use a smaller airport
If you have a choice between flying through a major or regional airport, choose the smaller one - they are far less prone to congestion and delays.
3. Fly early
If possible, book onto the first flight of the day. Any delays will get worse as the day goes on. Also preferably make sure it's an 'originator' flight - meaning that it is the first timetabled flight for that airplane for the day, and originating from the airport you are flying from. This means you're not waiting for it to arrive in from anywhere else. Always avoid the last flight of the day, so that if your flight is cancelled there's a good chance you'll be able to catch a later one.
4. Research your airline
If there's more than one airline flying to your destination, check each individual airline's reliability - some have a more 'laid back' attitude or are just generally more prone to delays and cancellations than others.
5. Make sure you're covered
Make sure your travel insurance policy covers flight cancellation and delays. If you're not covered, you could end up missing your holiday or competing with all the other delayed passengers to buy an expensive flight home. At the same time, check what coverage you are entitled to. Booking yourself into an expensive hotel to wait out the delay, only to find you're not entitled to that money back, will quickly put a dampener on your trip.
6. Take snacks
Take snacks to the airport with you so in the event of a delay, you're not having to fork out for airport food. If you find yourself delayed for more than a couple of hours, you may be entitled to a food voucher from the airline. Check at the flight desk, or ring your insurance help line to check your rights.
7. Lounge pass
Think about buying a lounge pass. Or, if you travel regularly from the same airport, it's worth getting a membership card which gives you priority access to airport lounges.
8. Keep the kids entertained
If you're travelling with children be sure to carry something to keep them amused in the event of a delay, such as a colouring book or handheld games console. Also, tie a brightly coloured scarf on their jacket and put a card in their pocket with your mobile phone number on in case they wander off and get lost.
9. Avoid peak travel times
Avoid peak travel times: Monday to Fridays between 7am - 10am and 4pm to 8pm are the worst. The best days to travel are usually Tuesdays and Wednesdays.
Image via Pinterest.