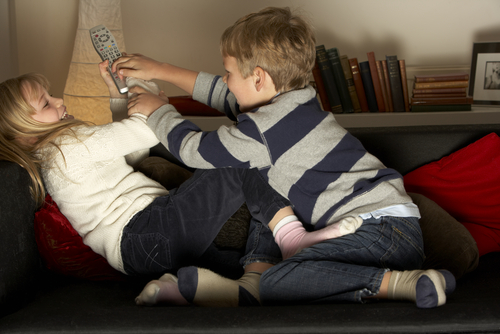 It can be a nightmare for parents when siblings fight a lot – it can almost feel like all of the time.
However, we also remember being children and how often we would fight with our brothers and sisters who years later become our closest friend and confidantes.
That's the most important thing to note – this isn't forever and it certainly doesn't mean they won't ever get on!
That said, it can drive us crazy when we hear those cries and screams from another room, out the garden or in the back of the car.
Here are some tips that can hopefully ease the sibling wars until they blow over.
Be the calm one
It can be too easy in the chaos to just shout: "Everyone be quiet!" but it's important that you remain the voice of reason in the room – meaning calm.
If there is physical fighting, separate your children, wipe away tears and ask what the issue is.
Remedy any cause of the fight
We all get cranky when we're hungry or tired, so if you think that could be a factor in the fighting try to fix the issues.
After a snack or a nap (or both!) you'll be surprised by how much your little ones' moods will have altered and they will happily pick back up where they did before the fighting started.
Lay down the rules
If there is name-calling and physical fighting going on (it's rare that there's not), make sure you firmly and calmly explain to your children that in their house there is to be absolutely no name-calling or physical violence of any kind.
Hopefully this message will get through and next time, and there will be a next time, there will be minimised amounts of that type of behaviour.
Cooling off time
Kids get over fighting in a matter if minutes so there is a good chance they'll be begging to be reunited for playtime if you separate them for a little while.
Mediate
Allow each child tell their side of the story – what happened, how it made them feel etc. Try to be the voice of reason within this discussion and without pointing out the perpetrator of the fight, explain why it's better for them to let this go and be friends again.