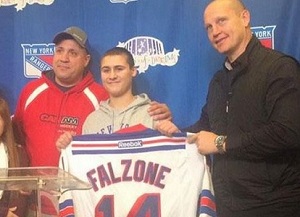 A young cancer survivor was granted a lifelong wish earlier this week when he was signed to the New York Rangers ice hockey team.
Chris Falzone, who is just 15 years of age, was signed to a one-day contract with the club, and suited up to stand as part of the team.
It is a dream come true for Falzone, who was diagnosed with cancer at the beginning of his freshman year. A keen sportsman, he was devastated when told that he would never play sport again.
However, after undergoing chemotherapy and hip replacement surgery, Chris has now been cleared to take to the ice again and has been playing sport with a local travel team.
In a touching gesture to their young fan, management at the New York Rangers club decided to do something very special for Chris. The young man not only got to meet with some of the club's biggest stars, but he also got the chance to play with them on the ice.
What a lovely story. Check out footage of Chris' amazing day below.