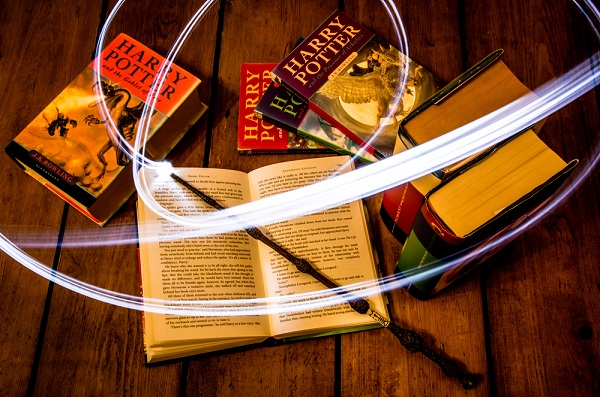 Can we just agree that J.K. Rowling is the the most fabulous author ever?
The Harry Potter author and philanthropist was moved by a blog post about a "struggling artist" who uses the Harry Potter books as an affordable way to bond with his daughter.
34-year-old Matt Burke shares custody of his 9-year-old daughter Bailey with her mother. In a recent Medium blog post entitled 'Being the Broke Parent', Burke shard his struggles as a single father. He says that his current situation is "no one's fault but my own."
"See, I come from a background of being an artist," he wrote. "A starving artist, a struggling artist that spent what should have been my college years travelling the country with various rock bands sleeping on floors and panhandling for cash."
A professional photographer, he's had the pleasure of working for companies and influential people, but unfortunately exposure isn't enough to pay the bills. He cannot provide his daughter with expensive gifts or trips, his Internet was cut-off for non-payment and sometimes he goes hungry so Bailey can eat.
This is the longest book I've ever read and I read it in 3 days because Harry Potter is life.
Taking a break from HP to read a few memoirs before diving into book 4, but damn these things are good. pic.twitter.com/cvJsMvAXBF

— Matt Burke (@mattburkephoto) 18 May 2018
But that doesn't stop them from having fun, and that's where Harry Potter comes in. While he admits that he "deemed [himself] to be too cool for the whole [Harry Potter] thing."
Then his daughter became obsessed with the series and Burke decided to take the leap with her and embark on adventures through Hogwarts together.
"At the time of this writing, we're halfway through the 2nd book, and we're having an absolute BLAST reading them together. We switch off chapter by chapter reading them out loud to each other while the other reads along in their own copy of the book.
"This not only allows her to get more used to reading aloud in front of someone, but it gets me directly involved in something she loves, and it gives me the chance to be extra dramatic when I read my chapters and bring myself into the characters in the book, which has proven to be a ton of fun.
"I get to shout and use all the funny voices I've accumulated over the years without her looking at me like I'm a total weirdo. Fun times for us both and, like I said, I wouldn't change it for the world."
After publishing the blog, Burke tweeted Rowling, thanking her for the "assist".
@jk_rowling I'm a single parent, broke as can be, and reading the Harry Potter series together has become one of the biggest sources of bonding for us.
Doubt you'll come across this or read this piece, but I just wanted to say thanks for the assist. https://t.co/hkX0q5HSCX

— Matt Burke (@mattburkephoto) 7 June 2018
Despite the thousands of mentions she probably receives a day, the sweet homage caught the attention of the master herself.
.@mattburkephoto The gifts you're giving your daughter are priceless and I'm truly honoured that Harry & co are playing a part. DM me your address for a set of signed Potters x https://t.co/EAcIKvwJwb

— J.K. Rowling (@jk_rowling) 7 June 2018
"The gifts you're giving your daughter are priceless and I'm truly honoured at Harry & co are playing a part," she wrote, before telling Burke that he plans on sending him a set of signed books.
We just got the warm and fuzzies. It doesn't make money to create cherished memories.