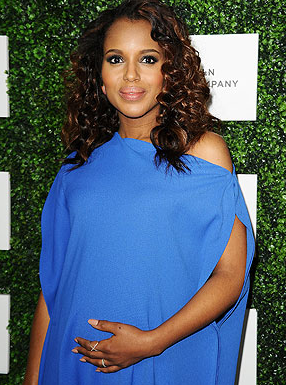 Scandal actress and new mum, Kerry Washington, was proudly talking about her new arrival on the Jimmy Kimmel show last night.
The actress and host bonded over their lives as new parents.
Washington welcomed her first child with husband Nnamdi Asomugha on April 21st in L.A., while Kimmel welcomed his daughter with Molly McNearney on July 10th.
During the interview Kerry revealed that she decided to name her daughter Isabelle after her grandmother. In a strange coincidence, Jimmy also named his daughter Jane, after his grandmother.
Jimmy joked about the strange coincidence and suggested that they should swap their daughter's names.
"Your baby's name is Isabelle and mine is Jane. We should swap them and see if our families notice!"
Kerry also spoke about some of her unusual pregnancy cravings, and thanked Kimmel for catering to her needs during her last show appearance in February.
"There's nothing more kind to do for a pregnant lady than (to give her) a box full of frozen deliciousness. It was amazing."