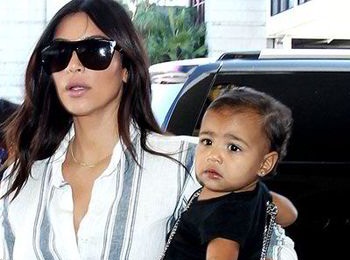 Kim Kardashian and Kanye West's decision to name their daughter North West has been a source of confusion and amusement ever since the famous baby greeted the world.
Now however, we finally know where the name actually came from: the media rumours that they would pick the name North.
In a weird 'chicken or egg' situation, it was only when Kimye read the suggestion in the paper that they started to think it would be a good choice.
Who really thought of it first? We may never know.
Kim explained in an interview with GQ that it was her friends, musician Pharell Williams and Vogue editor Anna Wintour who convinced her.
"It was a rumour in the press and we'd never really considered it seriously. But Kanye and I were having lunch … and Pharrell came over to us and said, 'Oh my God, are you guys really going to call your daughter 'North?' That is the best name.'"
"Then a little while later Anna Wintour came over and asked the same thing. She told us: 'North is a genius name.' Kanye and I looked at one another and just laughed. I guess at that point it sort of stuck," Kim said.
She probably shouldn't have said that, who knows what names the media will suggest next time.