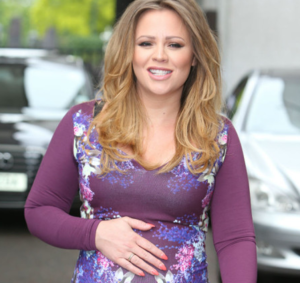 Girls Aloud singer, Kimberley Walsh shared a snap of her baby bump this afternoon.
The 32-year-old is expecting her first child with fiancé, Justin Scott. Kimberley showed off her growing bump in a green dress in a picture posted on Twitter.
The singer captioned the shot: "Does my bump look big in this?!"
Kimberley discovered she was pregnant on New Year's Eve and shared the good news in March.
The singer recently revealed that she wanted to keep her baby's sex a surprise.
"Part of me did want to find out what the sex is but I'm determined not to and it's quite nice to play the guessing game ... Honestly, all we want is a healthy baby so a surprise will be nice."