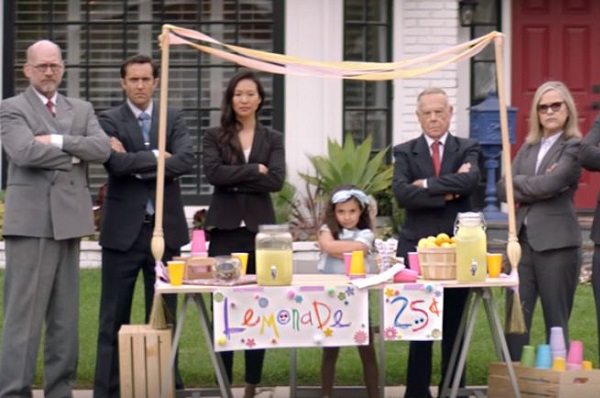 Lemonade stands, a time honoured tradition central to many a child's summer. What better way is there to teach them hard work, entrepreneurship AND get them earning their own pocket money?
However, lemonade stands have come under threat recently, not because of a rainy day, but the stern hand of the law. In the USA, children are being fined for having lemonade stands- for not having permits.
According to CNN, two brothers trying to raise money for charity had their stall shut down in Denver. When two sisters set up a lemonade stand to raise money for a Father's Day present in Texas they were shut down for not having Health Department approval. Some states fine permitless stands up to $500.
And it's not just in America, a girl in east London recently was fined 150 pounds for her stall.
But a lemonade company is taking a stand. Country Time Lemonade, owned by Kraft Heinz has offered legal assistance to any young business people who need help sorting their fines.
"When we saw these stories about lemonade stands being shut down for legal reasons, we thought it had to be an urban myth. After looking into it and seeing even more instances, we realised these weren't myths, they were real stories," Heniz CEO Adam Butler told CNN. " A very real response seemed the best way to shine a light on the issue."
Thus, Legal-Ade was born; an initiative where parents or guardians can apply for their children permits covered. The team will cover up to $60,000 in total.
"Life doesn't always give you lemons, but when it does, you should be able to make and share lemonade with the neighbourhood without legal implications," Legal-Ade says on its website. "That's why we're here to take a stand for lemonade stands across the nation."
In a hilarious Youtube clip a row of suit-clad lawyers back up a little girl's lemonade stand, "making sure no kid is denied their right to a lemonade stand."
"So when life hands you arcane laws, make lemonade," the video says.
The Legal Ade team has received a small number of submissions so far. Butler did not elaborate on exactly how many.
Don't let thew law stop you from making that lemonade kids!