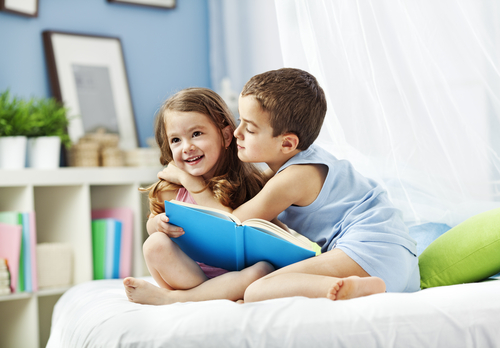 It is quite common for siblings to have to share a room when they are growing up and it is a great way for them to bond with each other. However, on the flip side it can mean your little one's personality can be lost as two personalities merge and can cause rivalry as they fight for space.
Here are five ways to ensure your little ones enjoy their time and don't lose their identity:
Privacy
Privacy is a huge deal for kids as they grow up and it is important that it is honoured. However, while it can be a little hard when they are sharing a room, it's not impossible. Invest in a room divider or a system that means each child has time to be in the room on their own.
Personal space
Sibling rivalry can get pretty heated when they have to share everything. The easiest way to get out of this is to buy two of everything: two chest of drawers, two desks, two wash baskets, two lights etc.
Bedtime
Bedtime and going to sleep can prove difficult when sharing a room, especially if the kids are of very different ages. If the youngest child goes to bed earlier than the older one it is important the one going to bed later respects the sleeping sibling. Invest in a night light that won't disturb slumber but that will allow the one going to bed later see what they are doing without needing to turn on the main light.
Creativity
To honour each child's creativity and personal space, you might consider decorating each side of the room to their taste. If this doesn't appeal to you a plain background provides great scope for throws, bed linen etc. in your child's favourite colour.
Set rules
Now this one will prove a bit harder than the others. Sharing a room will mean your kids will want to stay up late chatting or playing so it is important you nip this in the bud straight away. Talk about the importance of going to sleep and be firm about how bedtime is not playtime.