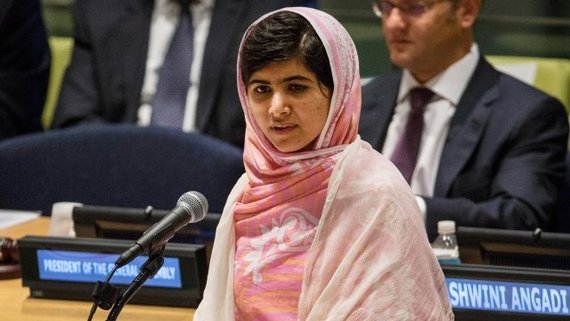 The absolutely incredible Malala Yousafzai has won the Nobel Peace Prize for her work in promoting the rights of girls and women to education.
At 17 she is the youngest person ever to win a Nobel Prize.
Malala first gained public attention as a blogger for the BBC at the age of 11, detailing her life under Taliban rule in Pakistan.
Her reports of being banned from school and the terror of violence lead to her being interviewed both in print and on television about her life and her activism, drawing attention to her cause but putting her life in danger.
Two years ago, almost to the day, Malala was attacked and shot as she boarded her school bus. The gunman shot at her three times, with one bullet hitting her in the forehead.
Amazingly Malala made a full recovery and despite her young age has worked tirelessly to promote the rights of children and women. She became famous globally when she gave a powerful speech to the UN on her 16th birthday.
Malala shares the prize with Indian children's rights activist Kailash Satyarthi, who has fought to end child labour for the last 30 years. His organization, Bachpan Bachao Andolan, has freed over 80,000 children from slavery and servitude and re-educated and rehabilitated them.
The Nobel Peace Prize is often controversial – previous winners include Henry Kissinger, Barack Obama, Shimon Perez, Yassar Arafat and Yitzhak Rabin, statesmen who arguably were responsible for more war than peace.
For Malala and Kailash however, this honour is more than deserved. The work they have done is absolutely astonishing, and hopefully this recognition will show them how much the world appreciates them.