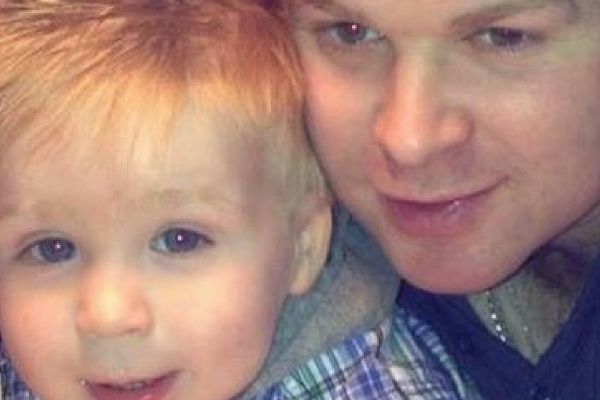 Jonny Little from Tyrone, Northern Ireland, is a proud dad of two and enjoys his job as a goods operator.
However, his life wasn't always this happy. Several years ago, Jonny was involved in a devastating work accident which left him in a coma.
While was using a machine to bend steel, a piece of steel flew out and hit him on the head, leaving the young man with a horrific brain injury.
At the time, he was just 23 years old. Jonny was rushed to hospital and remained in a coma for three months. Doctors feared the young man might not survive, according to Belfast Live.
His fiancée Arlene had just begun her maternity leave and rushed to his bedside. For months, she remained by his side, taking just a week off to give birth to the couple's first child Jay-J.
Jonny said: "He was my driving force." https://t.co/ud1V1r6Mnn

— Belfast Live (@BelfastLive) June 8, 2017
When Jonny eventually came around from his coma, he was given the wonderful news that he had a son and met Jay-J for the first time. However, he needed extensive rehabilitation to learn to walk, talk and care for himself again.
Jonny, now 30, explained that his young son became the motivation for his recovery. "I needed to get back here because I knew he needed a father," Jonny said. "He was my driving force."
Arlene was also a source of constant support and encouragement. "In my eyes, my wife is a legend," he said. "She put up with so much and brought me through the whole thing. We've been together 17 years - and she's been with me every step of the way."
As well as coping with a new baby, Arlene had to help Jonny relearn all the skills he'd lost as well as deal with the mood swings, forgetfulness and uncertainty that were side-effects of the brain injury.
Jonny was determined to return to work again so he could provide for his family.
With the assistance of three hospitals, physiotherapists, occupational therapists and local disability charity The Cedar Foundation, Jonny achieved his goal of returning to work.
He made the transition slowly, at first working two hours, three days a week to start. "I pushed myself so hard," the determined dad explained. "For me, it was about providing for my family."
Jonny and Arlene tied the knot since the accident and they've also welcomed a new baby, a little girl named Skye who is six months old.
Jonny now works full-time as a goods operator at the firm he worked for prior to the accident. He hopes his story will inspire others.
"I hope if there are others in my circumstances that they don't give up," he said. "I'm proof you can achieve when you believe."