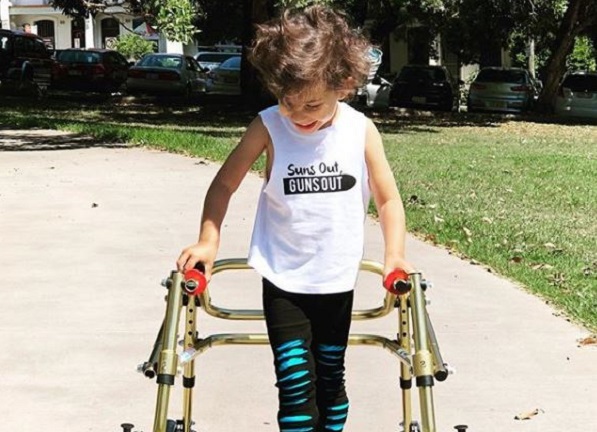 Doctors said that Saharsha Bekkers was just a lazy baby. By her first birthday, she couldn't sit up by herself and could only roll over.
Her mother, Nabanita Sen Bekkers, grew concerned and took the toddler to see a physiotherapist.
"Just like every other Google- and Facebook-enlightened mother of our age, I began to panic and finally decided to take her to a physiotherapist," she recalled, speaking to Mamamia. "The physiotherapist only took a moment after seeing her to refer us to a neurologist."
Little Saharsha was diagnosed with cerebral palsy. At first, her parents were devastated.
"[We] were shattered. I didn't know to whom I should turn or where to find peace. While our friends and family were all very supportive, we felt we were on a completely different boat, as no one else we knew had dealt with something similar," she said. "We went through the usual emotions of sadness, anger, despair, and [to process them] we went for a week to a remote island in Vietnam and drank copious amounts of wine.
"However, Saharsha was always our saving star. She has a smile and a laugh that can light up any dark day. So I would say, in the end, our love for Saharsha was stronger than any other emotion we felt. We knew we had to make it work and make sure we give our little girl the best shot at what life has to offer."
Three years later, Saharsha is going strong and lighting up Instagram wth her mega-watt smile. At still only three years old, the tot is already a bona-fide globetrotter.
Saharsha in her wee three years has already lived in three countries (Sri Lanka, Singapore and now Australia) and travelled to over a dozen, spanning from the US to Fiji. Then I thought why not showcase that to everyone, to also show that being differently abled doesn't necessarily limit you from living your life to the fullest," mum Nabanita explains.
Not only has she already visited more exotic places than you (kind jel tbh) but she's also a champion for inclusive fashion.
Saharsha adores clothes and accessories, her 2,000 follower strong Instagram account is full of the most gorgeous little outfits and stylish looks.
Her mum ids determined that Saharsha will grow up full of confidence- with or without her walker.
"You can be fabulously cool, brave and happy in a walker, just as you can without a walker. Beauty comes in all forms, and Chronicles of Zhazha is our attempt to spread that word. I hope that one day we will see more ads that include children who are differently abled, and instead of saying 'Wow, that brand has a child in a wheelchair', we don't even bat an eyelid as that is the norm.
"I hope I manage to give Saharsha the confidence to realise that she can do anything as long as she puts her mind to it, because I honestly believe so. I also hope that this confidence helps in making her a stronger person, so that in the future she stand up against bullying and any other prejudice that might come up on her way."
As she grows older, Saharsha is becoming more and more aware of her CP. Unfortunately, it's other adults that make her more aware of her differences.
"Just the other week I was walking in a shopping centre with Saharsha and [her 14-month-old sister] Anwesha, and the girls were having a blast chasing each other," Nabanita recalled. "I could see one lady nodding her head in pity from a distance, pointing at [Saharsha] to her friends. That's OK; I usually ignore it. But then the lady actually walked over to her, stopped her and started telling her, 'You poor poor girl, I am so sorry for you.' She didn't mean bad at all, but no one – not even a three-year-old – needs or deserves that.
"I politely told her, 'Do not give my daughter your pity, as she doesn't need it. She is just another happy three-year-old enjoying roaming around the mall. The next time you see another child in her walker, say how amazing she's walking and how happy she looks!'"
And while Saharsha might never be able to walk unaided, her personality and sense of fun shines through.
As Nabanita said on Instagram: "She can light up [a] black hole with her sheer presence. She knows names of almost all dinosaurs and can count and knows all her alphabet. She has the kindest heart and the ability to love unconditionally. She can sing from her heart and her eyes dance when her feet give away. She knows how to say the lamest jokes in the funniest ways.
"Who said I wanted normal?"
And the new normal is hella cute.