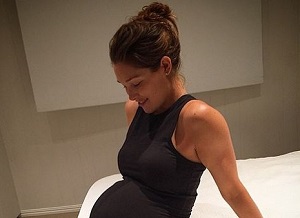 She gave birth to her first baby just four weeks ago, and model and new mum Erin McNaught is already looking absolutely fantastic.
Erin, who welcomed son Evander with her music star husband Example in December, took to Instagram this week to share a stunning bikini selfie, showing off the results of four weeks of training.
"4 weeks PP and I'm starting to get my stomach back! Aside from lots of walking and eating healthily, I've been doing loads of pelvic floor and transverse abdominal exercises. Still no traditional ab work though which is driving me crazy," she wrote.
But while the model didn't hesitate in showing off the results of her hard work, some people were not impressed.
Indeed, Erin received major backlash from a number of followers on the photo blogging site, with one commenting: "We have to stay relevant and in the media somehow I guess, don't we? Goodness knows you don't do that just being a mother."
Meanwhile, another added: "Oh not another celebrity trying to show how quickly they've lost the weight. Incredibly boring and vain."
Thankfully, a number of Erin's fans came to her aid, blasting those with negative comments for their cruel body shaming.

"I had a baby 5 weeks ago, and it doesn't matter if you're 'naturally skinny', I still have to put in the hard work. People should stop body shaming, she looks amazing!" wrote one user.
Don't listen to them Erin, you look incredible.