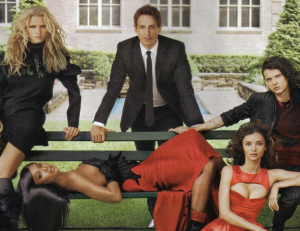 Dutch model, Lara Stone spoke openly about the pressures surrounding women to lose weight after they've given birth, and how pregnancy has given her a more accepting view of her body.
The model who is married to comedian, David Walliams went back to modelling four months after giving birth, but admitted she was nervous about returning to the world of modelling.
"If it wasn't for my job, I'm not sure how worried I would have been about the whole thing. During my pregnancy I wasn't exercising a lot…. I was huge. I'm just trying to accept it right now. And it's ok, because the things women can do with their bodies are amazing. You have to sit there and really think about it: 'Oh, I grew this little person's fingernails in my tummy.' After that, do you really give (…) about arm flab? Because I don't."
The model also spoke about celebrating her son's Alfred's first birthday and admitted she became emotional on the occasion.
"On his birthday, I cried the whole day. When they're born and just a helpless little blob laid on your chest, they're so vulnerable and little. And now he's this huge monster – in the loveliest way."
Lara even joked that she does recognise herself in Alfred's temper tantrums sometimes.
"Yeah, the tantrums, but I don't look as cute as him when I do it."