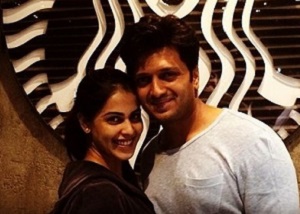 We have yet more wonderful baby news to share with you today, as it has been announced that Bollywood stars Genelia D'Souza and Riteish Deshmukh have welcomed their first child.
Genelia reportedly gave birth to a little baby boy, with her actor and producer husband Riteish taking to social media to announce the lovely news.
"It's a BBBOOOOYYYYYY!!!" wrote the elated new dad.
The 35-year-old later thanked fans for their well wishes, saying that his wife and son are both doing very well.
"Thank you all for your love, prayers & blessings – the mother, Genelia, [and] the lil [sic] one are doing great," he wrote.
"I wish I could personally thank everyone, every tweet means a lot – will try [and] reply to as many as I can – big hug, guys," he added.
Riteish and Genelia were first romantically linked after co-starring in a movie together, and they went on to tie the knot in February 2013.
The couple announced their exciting baby news back in June, with Riteish saying that the couple were "very excited" at the prospect of becoming parents.
Huge congratulations to the couple and their families.