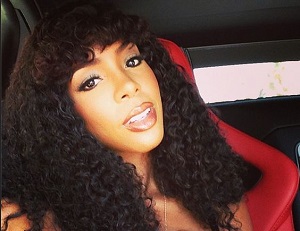 She gave birth to her first child last week, and Kelly Rowland is already making music for him.
The former Destiny's Child star has taken to Instagram to share a snippet of the song she has written for newborn son Titan.
Kelly unveiled A Song for Titan on her social media, posting a beautiful photo of her baby being held in her hands.
The singer and husband Tim Witherspoon welcomed little Titan Jewell last Tuesday, confirming the news of their son's arrival to People.
Revealing that Titan's name was connected to Tim's family, Kelly said: "We are thrilled to announce that today we are the proud parents of our first son. We are blessed to report everyone is healthy and happy!"
This is our first proper photo of baby Titan, with Kelly's former bandmate Beyoncé sharing a picture of his little hand last week.
In a sweet dedication to the newborn, Beyoncé wrote on Instagram: "There's no better feeling than holding my beautiful nephew. I thank god for the honuor of witnessing my sister's journey into motherhood. I've always dreamt of our little ones growing up together. I'm so thankful for our bond. Baby Ty, I love you so much. Congrats to my Spoons."
We love Kelly's unique and beautiful tribute.