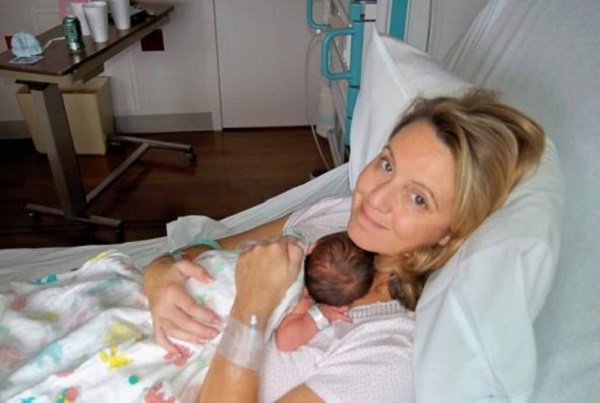 Imagine discovering that you were accidentally pregnant with another couple's child.
That's what happened to Carolyn and Sean Savage from Ohio.
With two teenaged sons, they decided to try IVF to try and expand their family. After a decade struggling with infertility, they gave birth to a daughter.
In February 2009, the couple decided that they still wanted another baby. So they went under what they were told would be their last possible IVF implant.
To the family's joy, some weeks later, Carolyn discovered that the IVF had worked and that they were pregnant.
The celebration, however, was short lived. The fertility clinic called with news that would change their lives forever.
They had implanted the wrong embryo. Carolyn was carrying another couple's child.
After dealing with the shock of the crazy situation, the Savages faced three choices- either terminate the pregnancy, sue for custody of the child, or act as a surrogate and carry the other couple's child to term.
For the genetic parents, the Morells, it was also their last hope of having another child. So Carolyn carried the child to term.
Writing in their blog, Carolyn and Sean said that they ultimately decided to carry the child, as it is what they would've wanted had the situation been reversed.
"Knowing that I was carrying another couple's beloved child, we did what we prayed the other family would do for us if the situation was reversed.
We decided to give the ultimate gift, the gift of life, to a family we had never met."
The pair wrote a book about their experiences, The Inconceivable, about Carolyn's pregnancy, the legal implications, how the family coped with the situation and "the touching moments Sean and Carolyn spent with the baby boy after he was born, before turning him over to his biological parents for good."
September marked the eight birthday of the Morell baby, and the Savages took to Facebook to share a heartfelt message to the "little man":
"This is always such a bittersweet day for us," they wrote. "It's hard to believe that eight years has passed since this little guy was born.
This little boy is always on my mind. ALWAYS. I wonder about him every single day. I hope he is happy and I pray that he feels all the love in the world!"
If you think the roller-coaster ends there, you are completely wrong.
In eight years since they gave the baby away, a lot has changed for the Savage family.
Despite being told that they could never have another baby, they have since gone on to have three more. Twin girls via a surrogate and a "miracle baby", a boy conceived naturally.
Carolyn now blogs about the crazy family life with four kids and two adult sons in Mama on the Fly.
We're exhausted just reading about the Savage's crazy journey! Sometimes the truth really is stranger than fiction.