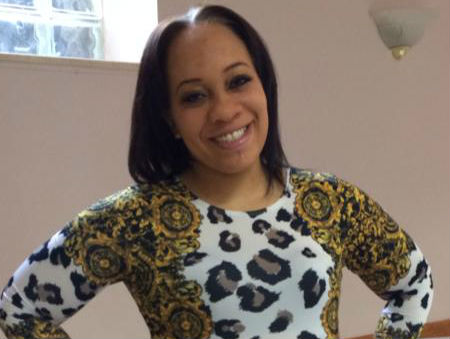 A mum who discovered her daughter had bullied a schoolmate reacted in the way we wish all parents would – she held her daughter accountable and ordered her to apologise to the person she hurt.
It's true that there are two sides to every story, but many of us parents either find it too hard to believe that their child could bully, or else we don't want to believe it, and so bullying behaviour often continues without parental intervention.
Donielle Dabney, from Detroit in the US, has no such compunction. In a Facebook post, which has since gone viral, she details what she did when she heard her daughter had kicked a classmate. She walked her to the school, made her apologise to the little girl and insisted she spend recess sitting in class writing an apology letter to little girl's mum.
And most amazingly of all, her post made the crucial point that anti-bullying starts with us, the parents.
"Parents teach your kids that bullying is not ok!!!!" she wrote. "Kids are committing suicide these days!!! I WILL NOT RAISE BULLIES AND NEITHER SHOULD YOU!! IT STARTS WITH US....LETS BE AWARE!!!"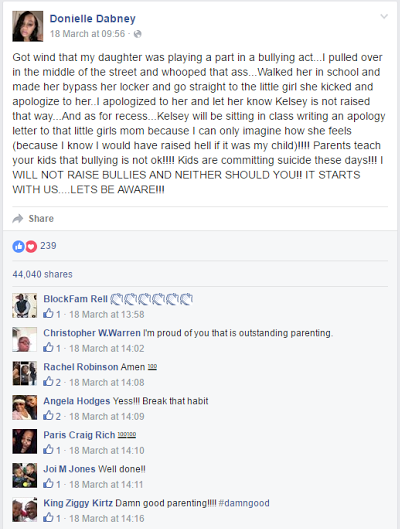 Commenters worldwide were quick to commend Donielle on her no-nonsense approach, with many of them saying she was 'doing parenting right'.
She then posted another status on her page, thanking so many people for their positive reaction.
"The fact that this status is now at over 36k shares has truly gotten me emotional," she wrote. "When I wrote this status it wasn't for the likes. I was really upset and expressing my feelings... and the fact that so many people could appreciate how I felt lets me know that my kid's future is looking very bright... Their mom must be doing something right... I'm so grateful that everybody took the time to share my stat... We probably stopped so many bullies already by making parents pay closer attention."
We too commend Donielle on her approach and are firmly behind her message. It starts with us.
SHARE if you admire Donielle's actions as much as we do!