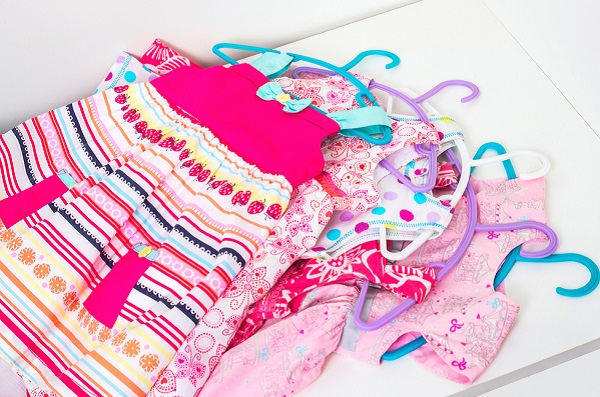 Heather Kaczynski has an important announcement for children's clothing manufacturers.
Girls need pockets. End of story.
Tired of carrying everything for her adventurous daughter, she voiced her frustrations on Twitter and immediately went viral.
It got so big in fact that she had to delete it. But luckily, Popsugar recorded exactly what it said:
"PLEASE PUT POCKETS ON GIRLS PANTS. Omg. My 3 year old is SO ANGRY when she doesn't have pockets or the pockets are fake. She has THINGS TO HOLD, like rocks and Power Rangers. She's resorted to putting stuff down her shirt. Come on. Pockets for girls please."
As it turns out, many, many parents have the same concern.
I have to hold my 3 y.o. son's rocks until we get home.

And because I'm big on pockets (8 on my jacket, 5 on my pants, and I'm carrying a backpack for the 3y.o.) it takes time to find them again.

There are also half a dozen rocks and sticks sitting in the car trunk.

— Moaz Ahmad (@yyzMYA) 22 April 2018
My girl refuses to buy shorts in the girl section because "they don't have any treasure pockets." May she always value pockets full of rocks so highly.

— Alison Chandra (@aliranger29) 22 April 2018
At 4, my kiddo had a pair of pants she always wore backwards because there were functional pockets in back and stupid sewn up nothings in front.

— Rebecca Donnelly (@_becca_donnelly) 20 April 2018
Before I became a dad I didn't realize how much parenting involved rock inventory management. Pockets in kids clothes are non-negotiable.

— Dan Brown (@brownorama) 21 April 2018
My daughter insists on wearing a jacket even on warm days because jackets always have pockets.

— Neha Bharti (@nehabharti19) 22 April 2018
We really feel her pain, like is it really that difficult to give girls pockets? Or, as Kaczynski points out, it might all be part of a big conspiracy...
My 3 year old doesn't carry or want a purse though. I truly believe we aren't given pockets in our clothes so that they can sell us purses

— Heather Kaczynski (@HKaczynski) 21 April 2018
C'mon clothes shops, give the people what they want- cute clothes with pockets!